...where creativity blossoms through interactive learning. This beautiful space nestled alongside Clear Creek on The Silver Thread Scenic Byway is home for unique studios and galleries. In 2008, sisters, Teri Didde Inman and Kathy Didde Killip, became inspired to create The Studios at Bristol in the building that for 26 years had been home to The Bristol Inn Restaurant. Giving space to display decorative arts and crafts was not the only reason for this new venture. It became the mission of The Studios at Bristol to allow both artists and visitors to learn through interactive, educational exchanges using the creative process to empower their expression of creativity. Visiting with artists and craftspersons while they create their art and craft allows a better understanding of the process and builds an appreciation in the mind of the viewer.
UNDERBRUSH LTD. STUDIO AND GIFT SHOP, since 1977, features nature inspired designs by Kathy Killip in the form of handmade leather bracelets, natural wreaths and wildflower themed florals, angel ornaments, photography, photo-notecards, fused glass, jewelry and Demdaco gift products including Folk Heart™ santas, snowmen & angels; Vintage Virtues® figurines of children; and Wildflower Angels® and Silversong® angels. Kathy uses her talent for combining pattern, texture and color to create her distinctive designs. She designed for Hallmark Cards Inc. for a decade and was one of three founding artists for DEMDACO. She offers a rich variety of products that she has designed. www.kathykillip.com
THE BONEYARD STUDIO AND GALLERY features the work of Cathy Ledeker, a painter, calligrapher, illustrator and illuminator with over 40 years of professional experience owning and operating her freelance art business. She maintains studios in Lawrence, Kansas, and Creede, Colorado. In addition to producing award-winning commercial and personal artwork, she also is a public school teacher, artist-in-residence and instructor of art workshops – nationally and regionally. Since retirement in 2015 as Art Director for Van Go, Inc., Lawrence, KS, Ledeker has focused primarily on personal and studio work. She unveiled The BONEYARD Studio and Gallery at the Studios at Bristol (south of Creede, Colorado) in July of 2018. BONEYARD features Ledeker's painting, hot glass, and handmade cards along with selected artists' work including handmade furniture by Ann Ledeker, welded metal sculpture by Kim Wintz, elk horn lamps by Mike Snyder and photography by Erin Wintz. www.ledeker.com
BRISTOL YARNWORKS in THE BRISTOL GALLERY, since 1976, features handwoven designer originals by award-winning fiber artist, Teri Inman. Teri has been creating hand-woven designs for more than 40 years. Distinctive style, quality and complex color blends are the hallmarks of her work. She specializes in cashmere, silk, fine wools, natural cottons, bamboo and tencel, often incorporating the process of arashi shibori into the fabrics for her designer originals. Wool from her Navajo Churro sheep is hand-dyed and spun for rugs and tapestries. Designer originals include a variety of elegant styles in a medley of complex color blends. The sensual fabric, flowing with color, is created as luxurious fibers interlace in intricate weave structures. Teri also features natural fibers and yarns hand-spun/hand-dyed as well as high quality brand names sourced from around the world. Teri's GOAT MILK SOAP line features goat milk soap made with all natural ingredients, producing rich creamy lather. High quality vegetable oils, goat milk, pure essential oils and vitamin E are mixed into Teri's special formula for these all natural soaps. Soap varieties include: Nutritious, Soothing Soap, Leche Jardine, Creamy Wild Rose, Calming Lavender, Aloha Shampoo Bar, Cocoa Butter, Mint Delight, Spiced Oranges, Lemon Fleece, Simply Soap, and the new El Dorado. www.bristolyarnworks.com
SLICKROCK STUDIO in THE BRISTOL GALLERY features wood art for the home and garden by Rocky Wilson.
Rocky's love of the mountains and desert is what brought him to southwest Colorado almost 40 years ago. That time outdoors became his inspiration for creating his wood art. He and his wife spend as much time as they can hiking, canyoneering, rafting and cross country skiing. His formal educational background includes forestry and dendrology. For the last 40 years he has collected plants, mostly from the deserts around the world. All the time he spends outdoors provides his inspiration for creating his wood art. For the last several years, Rocky has been creating wood art that combines the inherent architectural beauty of wood and stone. He has always loved working with his hands and has built and remodeled several homes that incorporate his woodwork in unusual doors, handrails, towel racks, etc. With his art he is involved in the entire process from the gathering of raw products in the forests and deserts mostly in the southwest to the final coat of finish, He also makes trips to the pacific coast for maple and walnut slabs and burls. Occasionally, he also purchases raw wood from an Australian exporter. The stone he used is from a local quarry and reflects the slickrock country that he loves. Rocky takes pride that all of the materials he uses are from sustainable sources or from "dead and downed" wood. His wood art includes functional pieces such as tables and benches as well as more decorative bowls, mushroom sculptures and wind chimes. Some pieces, especially those with stone tops and unfinished juniper, are suitable for outdoor use while others could be used outdoors with some protection from the elements. Rocky welcomes custom orders and enjoys the challenge of creating a unique piece to fit the vision of the client.
ECLECTIC FIBER ARTS in THE BRISTOL GALLERY features innovative designs by Darlene Danko. Darlene's collection includes handwoven jackets, vests, dresses and suits. Silk fabrics which are hand dyed, painted, stamped and stenciled are then transformed into one of a kind jackets and vests. Functional and decorative textiles for the home include rugs, place mats, towels, pillows, Indian dolls and soft sculpture animals. Beaded jewelry includes necklaces, earrings and bracelets constructed with semi-precious gemstones, silver and Austrian crystal. Her current work includes weaving, painted and dyed warps, painted and shibori dyed silk, surface design, soft sculpture, polymer clay jewelry, beaded jewelry, hand made paper and basketry. Most of my dye work involves the use of earth pigments gathered locally and natural dyes. www.eclecticfiberarts.com
BILL CHAPPELL BRONZES in THE BRISTOL GALLERY features the work of Bill Chappell, Western Artist and Sculptor (7/16/1919 - 9/22/2010). Bill lived the later years of his life sharing time between Seymour, TX and Alamosa, CO. He became an avid oil painter after moving to Colorado in 1953. In 1965, he sold his saddle shop in Seymour to began painting and doing bronzes full time. Both mediums found ready acceptance from collectors throughout the nation. This collection of Bill's bronzes all share the same edition number.
BLUE LINEN CREATIVE at THE BRISTOL GALLERY features flour sack towels designed by Brielle Killip. She is a graphic artist and owner of Blue Linen Creative which is a Denver based design and marketing firm. Her designs include humor, mountain motifs, great design and colorful images printed on premium quality flour sack towels.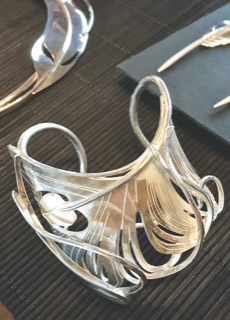 ARTIST IN RESIDENCE at THE BRISTOL GALLERY featuring Robyn Nichols who is an international jewelry artist with a vision - a vision that the beauty of nature can be brought to life in the sculpting of sterling silver. Robyn's graceful and elegant sterling silver jewelry and tableware are sold and collected across the United States, Canada, Australia, England, South America and the Caribbean countries. Her work is included in the permanent collections of the Smithsonian Institution-Cooper Hewitt Museum (New York City), the Contemporary Art Museum of Virginia Beach (Virginia Beach, Virginia), the Nelson-Atkins Museum of Art (Kansas City, Missouri) and the Hebrew Union College Jewish Institute of Religion Museum, New York, NY. Always inspired by nature and its natural beauty, Robyn continues to create timeless designs for jewelry, tableware, and sculptures. Nichols is also very active in the design and fabrication of Judaic art. www.robynnichols.com
BOB SEAGO PHOTOGRAPHY in THE BRISTOL LOFT GALLERY features the photographic work of Bob Seago who lives upriver from Creede, Colorado. He is a landscape and wildlife photographer specializing in color digital photography. He has been behind a camera for over 35 years, and though he travels frequently, finds the San Juan Mountains to be his favorite shooting location. In the past, his work was frequently found in the Creede Magazine and Creede Calendars on a regular basis. Bob has won numerous awards in the Creede Arts Council Mountain Shootout regional photography show, and has been a featured gallery artist at the Creede Repertory Theatre. He has published two books: "Same Location: Different Time - Photographs of Creede" where he recreated historical photographs by finding the exact place where the historic photographs were taken. Beautiful nature photography by Bob is offered in framed artwork, mounted artwork and notecards and t-shirts. www.bobseagophoto.com
PERLA KOPELOFF-FIBERSPACEART in THE BRISTOL LOFT GALLERY features the fiber work of Perla Kopeloff.
Perla graduated as an Architect in Buenos Aires and travelled in Europe for many years before coming to the USA bringing vast experience in design, color and texture. Here she became a weaver and a papermaker selling her work in Virginia, New Mexico and Colorado where she currently markets her wears in Santa Fe and Taos. She makes her home in Alamosa, CO. Her new work in felting using local alpaca and merino wool depicts a strong sense of primitiveness in its orientation which draws from ancient cultures such as the Incas in Peru, the Masai in Africa or the Mongolian in China. www.fiberspaceart.com
JIM COZAD PHOTOART in THE BRISTOL LOFT GALLERY features the work of Jim Cozad who retired from Hallmark Cards in Kansas City after 32 years where as a designer/photographer he pushed the artistic boundaries of photography and design to incorporate and merge the two mediums. Before computers he spent much of his time in the darkroom using different techniques to create eye-catching images for a myriad of products. After retiring he took that same vision to the computer where he could create more complex solutions by using his photography and various digital painting techniques to achieve unique pieces of art. Jim has used these methodologies to create his most recent work of portraits of NATIVE AMERICANS. His interest in their culture stems from his youth as his family farmed 400 acres on the Potawatomi Reservation near Mayetta, Kansas. The Native American's environmental wisdom, respect for nature and artistic inspiration have been catalysts for Jim's compelling images on both canvas and metallic surfaces. jimcozad.com
THE WORKSPACE GALLERY features functional pottery by Micheal Smith, western and Asian themed functional pottery by Ron Taylor, felt supplies by Handbehg Felt, gallery photographs by Kathy Killip and giclee prints on canvas by various western artists. Workshops are held in this space for jewelry making, felt embellishing and wreath making directed by Kathy Killip.